Home Men's Shoes Men's Sneakers Versace Men's Versace Versace Shoes Versace Sneakers
From other brands Nike Sneakers Gucci Sneakers New Balance Sneakers Off-White c/o Virgil Abloh Sneakers Balenciaga Sneakers Alexander McQueen Sneakers Adidas Sneakers Prada Sneakers PUMA Sneakers Golden Goose Deluxe Brand Sneakers Rick Owens Sneakers Common Projects Sneakers Christian Louboutin Sneakers Rick Owens Drkshdw Sneakers
Sort by recommendedSort by newestSort by price (high to low)Sort by price (low to high)Sort by recommended Sort
Versace sneakers are as decadent as the rest of the brand"s ready-to-wear with vibrant baroque prints, studs and Medusa head details adorning everything from quilted leather high-tops to paneled suede slip-ons. Pair them with shorts and drop-crotch sweatpants on casual days, and your favorite skinny jeans and a shirt when you want to smarten things up.
Đang xem: Versace sneakers
Treat your feet with the latest Versace sneakers. Featuring baroque prints, studs and Medusa head detailing, men's Versace sneakers are the foundation of any footwear collection. Designed with super-smart tech to help you smash your personal best, men's Versace sneakers can be paired with your favorite jeans and shirt to add some real wow to your everyday look. Available in countless shapes and styles, from quilted leather high-tops to paneled suede slip-ons, these sneakers are all about the attitude. For help finding the right pair of sneakers from the Versace collection and your best fit, see our buying guide below.
The Most Wanted Versace Sneaker Styles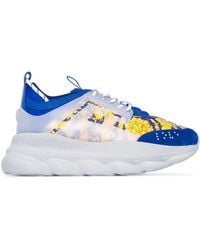 Versace Chain Reaction Sneakers
Expertly crafted in Italy, the Versace Chain Reaction Sneakers sport the iconic exaggerated chain link out-sole the design is famed for. Embracing a futuristic mood, the sneakers feature upper twill and suede panels which are embellished with the brand's signature baroque prints and Greca motif borders.
Versace Squalo Sneakers
Made from premium leather, the Versace Squalo sneakers were inspired by the anatomy of the great white shark. Features include a round toe, lace-up front fastening, a logo patch at the tongue, mesh panels and branded heel counter. The oversized rubber soles evoke the shape of the animal's jaws while the leather details feature the iconic Versace top-stitching as a celebration of the label's heritage.
Versace Leather High-Top Sneakers
Inspired by the old-school basketball styles, the Versace Leather High-Tops are embroidered with the brand's archival logo on the tongue. Made in Italy, they're adorned with gold hardware and set on layered rubber soles. A sneaker that fuses street style with sports-luxe flawlessly.
The Versace Sneakers Sizing Guide
Not sure what size you are in Versace sneakers? The brand's footwear comes in Italian sizing and generally fits true to size.
You can use the below size conversion chart to match men's UK, US and EU sizing to Versace's Italian sizes. For example, if you usually wear a UK 9 or a US 10, then you will need an Italian size 43.
EU3939.54040.54141.54242.54343.54444.545US66.577.588.599.51010.51111.512UK55.566.577.588.599.51010.511
How To Care For Your Versace Sneakers
Keep your Versace sneakers in their original condition for longer by maintaining them properly, including cleaning them correctly.
Follow the below simple steps:
– If your sneakers are caked in mud and dirt, knock the soles of your sneakers together.
– Use a soft brush or damp towel to remove any remaining dirt.
– You can spot clean your sneakers using a quick wipe which will get rid of most stains. Simply use a dab and twist motion to wipe the stains away.
Xem thêm: Các Kiểu Tóc Xoăn Đuôi Nhẹ Nhàng, Top 16 Kiểu Tóc Uốn Đuôi Dẫn Đầu Xu Hướng 2021
– If your sneakers are particularly dirty, dip your brush into hot water and pour some cleaning solution on to it.
– Apply the brush to the sneaker's upper and gently rub back and forth.
– It's best to work up a lather so the bubbles do their job properly.
– Once your laces are clean, put them in the washing machine or scrub them with a toothbrush and cleaning solution.
– Otherwise, you can purchase a new set of laces online cheaply.
Other Versace sneakers care measures
– To protect your Versace sneakers from everyday dust and dirt, consider coating them in a light, protective layer of petroleum jelly or fabric and upholstery spray. It's worth reapplying the protective coating every six to 12 months rather than just once.
– You can also prevent wear and tear by storing them correctly when you aren't wearing them. For instance, store them in their original box, in clear boxes or using a shoe rack.
FAQ
Where are Versace sneakers made?
Any authentic Versace product is made in Italy. So, if an item isn't made in Italy, it's most likely a fake product. Often, counterfeit items will read "Made in China" or "Made in Taiwan". It's best to buy your sneakers from a featured retailer on zipit.vn or straight from a Versace store.
Xem thêm: Mặt Tròn Trán Dô Hợp Với Kiểu Tóc Nào, Mặt Tròn Trán Cao Hợp Với Kiểu Tóc Nào
Do Versace sneakers run true to size?
Versace sneakers mostly run true to size, although Italian sizing is known to run a little smaller than traditional American sizes. If you're unsure, have a look at the size chart above so you find the size that fits most comfortably.
How do you spot fake Versace sneakers?
Counterfeit Versace items are almost always very poor in quality. All authentic Versace products are manufactured in Italy. If the item wasn't made in Italy, it's probably a counterfeit. Be aware of the stitching, too, which can be indicative of a fake Versace product. Authentic Versace stitching is consistent, seamless and almost unseen. Fake Versace displays irregular, messy and discolored stitching.