Women'S Sneakers & Athletic Shoes For Sale, Men&#39S Sneakers & Athletic Shoes
Sort by recommendedSort by newestSort by price (high to low)Sort by price (low to high)Sort by recommendedSort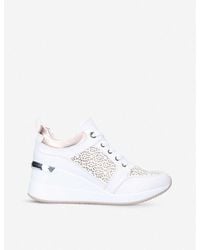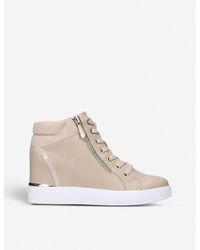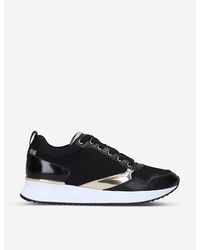 Combining fashion with function, it's no wonder ALDO"s women"s sneakers are so covetable. Give your sneakers collection an instant upgrade with on-trend additions from our selection at zipit.vn. Available in a wide range of styles, these pieces are designed to last. Combining a minimalist design with expert craftsmanship, it's easy to see why these pieces are so popular. Available in a wide range of colors and styles, these sneakers are designed to last. The label merges functional, comfortable qualities with its signature design aesthetic to create pieces that will work for a range of occasions. ALDO continues to impress with its wide selection of coveted pieces that always feel modern.Everyone should have ALDOsneakers in their wardrobe. Shop our edit today.
Đang xem: Women's sneakers & athletic shoes
ALDO, a Canadian retailer, started off specializing in footwear. As the brand grew globally, they expanded by developing collections of fashion-forward bags and accessories. Today, Aldo is the go-to shopping destination for style-conscious shoppers. Aldo sells the latest trends for men and women for every occasion. Expect casual styles such as low-top and high-top sneakers, classic canvas pumps and on-trend styles such as animal-print boots. Aldo"s core values are respect, integrity and love, which are infused into every shoe, handbag and accessories it makes.
Refresh your sneakers collection with the Ailanna sneakers. They"re crafted from smooth faux leather and detailed with gold hardware for a fresh update. Completed with an on-trend wedge heel that feels comfortable when worn. Perfect for casual and smart-casual situations, pair them with anything from skinny jeans to joggers to floaty midi dresses. These sneakers are available in a range of different colors and details.
If you"re looking for a pair of chunky sneakers that are statement yet practical, the Thrundra sneakers are just that. The thick platform soles will give you extra height, while the contrasting upper panels give off a cool vibe, meaning they"ll elevate any outfit with ease. The metallic mirror-like heel trim provides this style with added interest.
Step up your sneaker game with the Jille sneakers. Available in an array of different colors and textures, the low-top silhouette blends versatility and fashion nicely. The elasticated side inserts, padded sole and chunky rubber platform, add extra comfort. Perfect for off-duty days or running errands, slip them on with ease and be on your way.
Aldo sneakers vary in size depending on the style and collection. Based on the feedback from its customers, Aldo has introduced half sizes to some of its sneakers. The brand added the following sizes: 6.5, 7.5, and 8.5 for women. If your feet are between sizes or if one foot is larger than the other, Aldo suggests sizing up to a large size. For those who need more space, Aldo offers a wide-fit collection. Look out for the "Wide" text and circular symbol.
Xem thêm: Shop Bán Balo Trẻ Em Và Người Lớn Giá Rẻ Ở Tp Hcm, Bale Trẻ Em Ở Hn & Tphcm
Aldo sneakers use UK sizing, and you can use the below sizing guide to see how this correlates with US and European sizes, as well as the length of your foot in both inches and centimeters.
USUKEurInCm
5
2
35
8.8
22.2cm
6
3
36
9
23cm
6.5
4
37
9.3
23.4cm
7
4.5
37.5
9.4
23.8cm
7.5
5
38
9.6
24.3cm
8
5.5
38.5
9.7
24.7cm
8.5
6
39
9.8
25.1cm
9
7
40
10.1
25.5cm
10
8
41
10.3
26.4cm
10.5
9
42
10.5
26.8cm
11
9.5
42.5
10.7
27.2cm
How To Care For Your Aldo Sneakers
Aldo takes shoe care very seriously. They offer a wide range of multiple products to help clean your sneakers. From cleaning brushes to cleansing wipes, waterproof sprays to gel cleaners for leather and suede and more, you will have no problem keeping your kicks looking fresh. The right product for you will depend on the material of your shoes. They also sell products, especially for cleaning insoles, such as a shoe fresher pen. Some products come with built-in brushes to help clean hard to reach areas and remove dirt and refresh the sneakers.
Aldo offers an in-store, personalized service, where you can take your sneakers to your nearest store and a shoe specialist will advise on which care product to use.
Protecting your sneakers is a crucial step in ensuring they last from season to season. In addition to selling cleaning products, Aldo sells a vast amount of sneaker protectors, such as water-resistant lotions and a leather and suede protector for protecting your sneakers from the rain.
FAQ
Is Aldo a sustainable brand?
Aldo continues to take steps to improve its sustainability push. Last year, the brand introduced its first sustainable sneaker, and its signature label, Call It Spring went fully vegan for spring "19. One of Aldo"s goals is to make its Call It Spring label fully sustainable by 2025. Aldo has also said goodbye to single-use shopping bags across thousands of its stores. The bagless drive encourages customers to opt for an eco-designed shoebox, which will eliminate 8 million single-use shopping bags and save an estimated 8,500 trees per year. The brand"s shoe boxes are "eco-designed, meaning they"re 80% made from post-consumer recycled materials and they"re fully recyclable once the rope is removed. In 2018, Aldo was declared as a carbon-neutral company.
What is the Aldo X Give Back Box scheme about?
Aldo has partnered up with Give Back Box to make it easier for its customers to recycle their old shoes, clothing and handbags. How does it work? The Give Back Box scheme allows Aldo shoppers to reuse the shoebox and online shipping boxes that they receive their new shoes in to donate pre-loved items to charities. Not only are their customers giving their boxes a second life, but they are reducing the number of shoes that end up in landfills, and they"re giving their old shoes and clothes to someone in need.
Xem thêm: Công Ty Giày Thể Thao Hwaseung Vina Tuyển Dụng, Hwaseung Vina
Does Aldo have an app?
Aldo updated its mobile app two years ago with an in-store feature that lets customers scan a shoe"s bar code to request a size. This "Express Try-On" experience then notifies a salesperson who retrieves the items and brings them to the customer. For shoppers to use this feature, they would need to ensure that their location services and Bluetooth are enabled. The app update also improved the bar code scanning. Aldo previously launched a system that notified shoppers who were entering stores to open the Aldo app on their phones. Shoppers would then be shown product images and product descriptions which they could then share via social media.